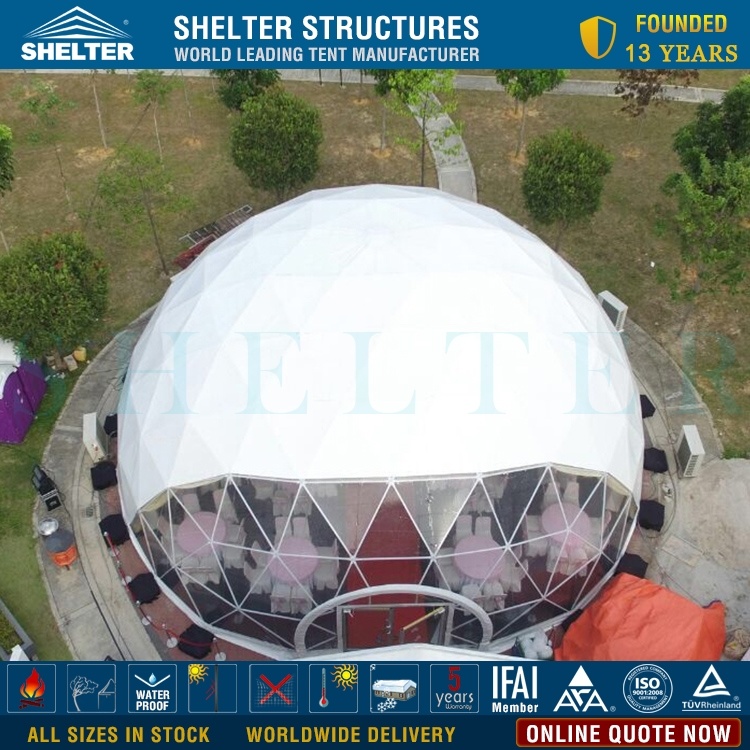 Shelter beautiful 15m Geodesic Event Dome host your event in style

Specifications

15 m (49 ft) diameter dome

Center Height

9 meters (24.5ft)

Roof Cover

850g/sqm white PVC coated fabric

Floor Area

176sqm (1894sqft)

Capacity

300-400 people

Application

Event, Exhibition, Party, Wedding, etc



Main Features of Glasshouses




√

Capture Attention


Dome-shaped event tents provide a visually striking alternative to conventional square tents, offering high visibility for branding and advertising.
√

Infinite Layouts


With diameters ranging from 5 meters (16 ft ) to 80 meters (262 ft). Geodesic domes provide expansive interior space for your client's layout.
√

Fast & Easy Installation


Event Domes could be installed in a short time on practically any surface, for any weather, as a temporary or a semi-permanent structure.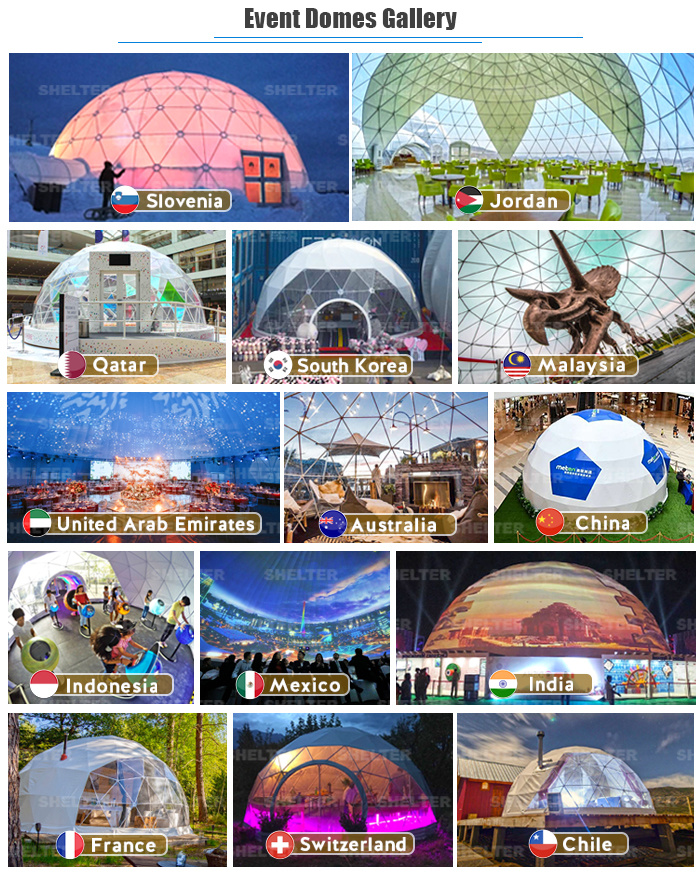 Specifications




Event dome tents from Shelter are in a robust framework to build 4 season glamping hotel under all weather conditions. Size varied from dia.6m to 30m for the applications of glamping accommodation as well as campsite recreation facilities.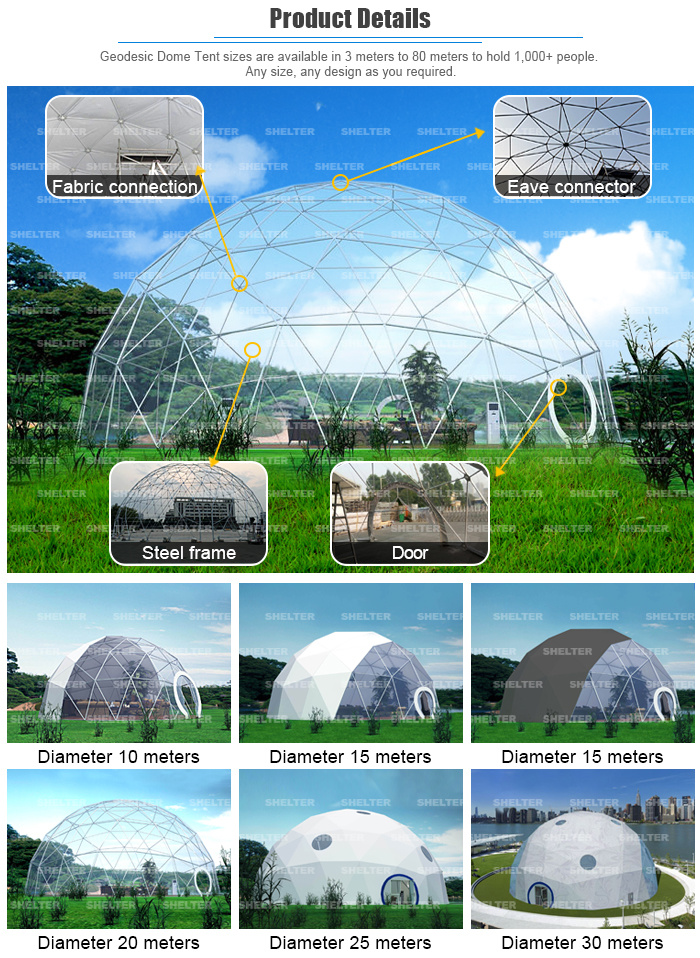 Event DOME SERIES
Main Profile:
Available Sizes (mm):Φ20*1.5, Φ25*1.5, Φ32*2.
Material: powder-coated steel pipes Q235
Features: stainless, durable (estimated lifespan of 10+ years)
Cover:
Density: 850 g/sqm double-coated Blockout white PVC
950 g/sqm transparent PVC
Material: PVC coated polyester fabric
Features: waterproof, UV resistant, fire retardant (DIN4102, B1, M2 & NFPA 701)
Components:

Superior enclosure with hot-dip galvanized steel
EVENT DOME SERIES FRAME SPECIFICATION
Size(Diameter)
Ridge Height
Frame Pipe Size
Capacity

Assembly Time

6m (19 ft)

3m (9 ft)

Φ20 x 1.5 mm

20-45 ppl

4 h with crew of 4

7 m (22 ft)

3.5m (11 ft)

Φ20 x 1.5 mm

30-50 ppl

6 h with crew of 4

8 m (26 ft)

4m (13 ft)

Φ20 x 1.5 mm

40-75 ppl

8 h with crew of 6

10 m (32 ft)

5m (16 ft)

Φ25 x 1.5 mm

65 - 115 ppl

10 h with crew of 6

12m (39 ft)

6m (19 ft)

Φ32 x 2 mm

85 - 160 ppl

15 h with crew of 6

15m (49 ft)

7.5m (24ft)/6.5m (21 ft)

Φ32 x 2 mm

135 - 300 ppl

20 h with crew of 6

18m (59 ft)

9m (29 ft)/7.5m (24 ft)

Φ38 x 2 mm

180 - 420 ppl

plz contact for details

20m (65 ft)

10m (32 ft)/8m (26 ft)

Φ38 x 2 mm

250 - 550 ppl

25m (82 ft)
12.5m (41 ft)/10m (32 ft)

Φ52 x 2.5 mm

500 - 980 ppl

30m (100 ft)
15m (50 ft)/11.5m (37 ft)

Φ60 x 3 mm

650 - 1,200 ppl

35m (115 ft)
17.5m (57 ft)/13m (42 ft)

Φ68 x 3 mm

960 - 1,750 ppl

40m (130 ft)
20m (65 ft)/15m (49 ft)

Φ68 x 3 mm

1,300 - 2,150 ppl

50m (164 ft)
25m (82 ft)/18m (59 ft)

Φ68 x 3 mm

1,800 - 2,500 ppl